Dedication of Camden's Bicentennial Garden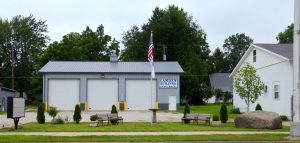 Camden – Community residents and guests celebrated the dedication of Camden's Bicentennial Garden the evening of July 29th.  A garden focal point for the business district was discussed and incorporated in the 2009 Downtown Revitalization Plan adopted by the Town Council as a means to improve the area's overall appearance and incorporate a few key focal features.  The completion of the Garden, designed by Past-Council President Jeff Sieber, is another step forward in achieving a completed plan.   Coordinators of the evening were Deb Foreman, Jackson Township Trustee, Pat Casserly, Clerk-Treasurer and Diane Wertz, Past-President Camden-Jackson Twp. Public Library.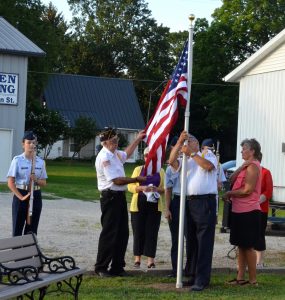 Ms. Foreman, serving as Master of Ceremony, thanked all those who helped to make the event possible and introduced Andrew Robison, Camden Town Council President.  Mr. Robison welcomed the guests and introduced the Carroll County Honor Guard and the Grissom Civil Air Patrol who presented the colors.  The most recent addition to the Garden was the flag pole which was purchased with donations from the Camden Woman's Literary Club and an anonymous donation.  The flag was donated by the Camden American Legion and the Sons of the American Legion.  The Garden dedication was opened with a prayer offered by Pastor Jerry Long of Camden's First Baptist Church.  Children from the Camden Community Bible School provided entertainment with John Atkinson on the keyboard.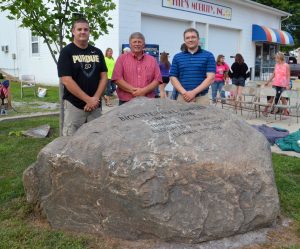 Three members of the community will serve as torch bearers when the Indiana Bicentennial Torch relay passes through Carroll County.  Eric Foreman, Jerry Sparks and Dr. Ben Anderson, representing his father Dr. Tom Anderson posthumously, were congratulated on being among those selected to represent Carroll County.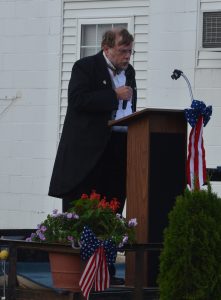 Keynote speaker Mark Smith delivered remarks on the history of Indiana, the native tribes who once inhabited the state and the events leading up to statehood.  His remarks concluded with reading the state poem "Indiana" by Arthur Franklin Mapes who was recognized as Indiana Poet Laureate in 1977.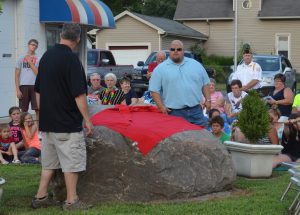 The Bicentennial Rock, donated by Past-Council President Richard Fite, was unveiled by Council Members Mark Schock and Brent Deel.  Helping to serve the refreshments were Miss Camden representatives Megan Dunning, Jasmine Pettiner and Taylor Williams.  The evening concluded with a community launch of biodegradable paper lanterns.