The Camden Community Building is available for rent for your next special occasion!
Chairs, tables, kitchen and handicap accessible restrooms are included in the rental price. Non-profit groups (youth groups, churches and preschools) are often allowed to use the facility at no cost. A current certificate of insurance is required by all groups and individuals. If a business or organization is using the building in a profit making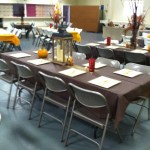 endeavor, the use must be approved by the Town Council. The utilization of the building may be confirmed but is not valid until all paperwork is submitted and the proposed function approved.
Please call the Town Office (574-686-2121) to check availability.
-download rental forms–
RULES FOR USAGE OF FACILITY
Usage Agreement for the Camden Community Building
– Individuals and Businesses

– Not‐For‐Profit Organizations