Camden-Jackson Township Fire Department
The Camden Fire Department was organized in 1921 with one piece of equipment, a Model "T" Truck, and in 1946 they purchased their second piece of equipment an International pumper. The first fire station was behind the Masonic Lodge and then in 1951 the Camden Community Building became the fire station. In 1975 the Township Trustee built a new station one block south of State Road 218 on Church Street and the departments name was changed to the Camden-Jackson Township Volunteer Fire Department.
Camden/ Jackson Fire department is constructed of 23 volunteer members and 3 junior firefighters. Not only are we running on all fire calls in our responding area, we are also responding on every medical call in our area also. This provides basic initial care quicker than before!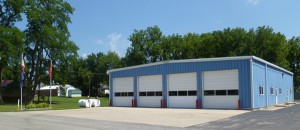 Our Mission: Established in 1921, the continuing mission of the Camden Jackson Township Volunteer Fire Department is to protect the lives and property of the residents of Jackson Township including The Town of Camden, The Town of Deer Creek, Washington Township, Carrollton Township and any fire department that may call on our department for assistance (mutual aid) in the most efficient, professional manner possible. This is done by safely and efficiently extinguishing fires, rescuing persons in danger, continually educating ourselves, practicing our skills, and educating the public of its role in fire safety, all to the best of our abilities.
Officers for 2014/2015Eric Foreman- ChiefGary Stanley – Asst. ChiefChuck Foreman – Asst. ChiefShane Chapman – CaptainBrian Graf – 1st Lieutenant Mike Gilliam – 2nd LieutenantBrian Graf – EMS ChiefJason Cree – Safety/Training OfficerEllen Dunning – Treasure Ron Wertz – Secretary
Contact Info:jacksonvfd@tds.net