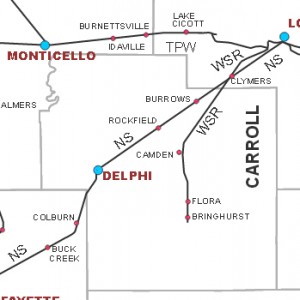 Rail Commission Members:
Pete Wagoner, President
David Albaugh, Vice President
Julia Leahy, Secretary
Patricia Casserly, Financial Officer
Connie Cripe, Member
Bret Hanaway, Member
ANNOUNCEMENTS
from Camden-Flora Rail Corridor Commission
CAMDEN, Ind. — Titled "Project Lego," a $300 million renewable energy project is expected to bring about 245 jobs to Carroll County, local officials and business leaders announced Tuesday, 11-29-16.
>see the video <
Those interested in submitting a job resume may do so at camdenrecyclingjobs@gmail.com.
More information on the project as covered by Indiana news and business media:
Interesting blog about GEP Project recently posted by GoRail
Camden-Flora Rail Corridor Commission was established as a public entity in July 2013 via an Inter local Cooperative Agreement between towns of Camden and Flora. The Rail Commission works closely with US Rail of Toledo, Ohio (operates Winamac Southern Railroad) to foster rail-served industrial development within the Rail Corridor through central Carroll County that will create new, good-paying jobs … this was the sole purpose for establishing the Commission.
The Rail Commission partners with Carroll County Economic Development Corporation, three Commission members are also board members of CCEDC and Laura Walls, Executive Director of CCEDC, serves as an Advisory Member of the Commission. Primary responsibility of the Rail Commission is to pursue joint industrial development and job creation opportunities including, but not limited to, the location of industrial rail service in central Carroll County. The Commission's focus is to upgrade the rail service in the Corridor and secure new, rail-served industries to locate in central Carroll County.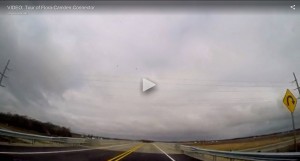 A newly finished multi million dollar road project may help bring jobs to Carroll County.
The Camden-Flora Connector now joins State Road 75 to the Hoosier Heartland Corridor. Camden-Flora Rail Corridor Commission chairman Pete Wagoner said this connection allows semi trucks direct access to the heart of the county.  >for more information and a video tour of the connection click here…<    (source WLFI.com)
Indiana Rail System map (2012) .pdf

In 2013 Flora was in danger of losing its historic depot, damaged by fire in 2003 and neglected for many years.  Thanks to the efforts of Flora Main Street, the Town of Flora, and crews of volunteers, it was deconstructed and stored. Plans are to reconstruct it near its original site.  It will be a welcome center, local history museum, and transportation education center.  We are working to ensure the depot continues for years to come.
For more information visit our web site at > http://www.floraindianadepot.org <