P O Box 93, Camden, Indiana 46917-0093
574-686-2134
October 7, 1977, was the groundbreaking ceremony for the new Senior Citizens apartments which are located on North Monroe Street.  These apartments were finished in April, 1978, with an Open House held on December 3, 1978.  The eleven-apartment unit also had a laundry facility and a small meeting room.  Camden-Jackson Housing Inc. officers at this time were:  Rev Richard Recher, President; James Huffer, Attorney; Jim R. Sullivan, Vice President; Marjorie Sieber, Secretary; and Tom Kirby,
Treasurer.  Board Directors were Alice Linn, Herb Yerkes, Dallas Wilson and Raymond Bieghler, who was also the President of Camden Senior Citizens.  The project cost was $210,000.00.
August of 1982 was another groundbreaking at North Church Street for another twelve-unit apartment complex.  A new community center was added between the two apartment complexes.  That building contains a laundry, two restrooms, office, janitor supply room and meeting room with a small stove, refrigerator and sink with garbage disposal.  The meeting room is for the use of the residents.  The old laundry and meeting room in the first phase was converted into another apartment; thus, there are now 24 apartments.  The complex covers a full town block from North Monroe Street to North Church Street.
In 1988 the two phases were combined to make the rent the same for all 24 apartments.  The complex was built for low income senior citizens of the community.  The rent is figured on the amount of income utilizing a portion of out-of-pocket medical expenses to lower the income.  The complex has been fully occupied most of the time since that time.
Reverend Richard Recher was one of the founders of the project.  He served on the board of directors all the time he lived in the Town of Camden, right up to his death.  He was a very dedicated person to the citizens of Camden and the residents of Camden-Jackson Housing, Inc.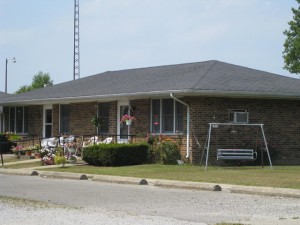 Many other residents of the area are also to be thanked for their involvement.  Thirty-three persons gave $100.00 each to become share holders in the project.  That money was needed before the government would loan funds to the project to build this much needed asset in the community.
The current officers are:  Ron L. Cree, (President); Robert McCain (Vice President); Jay Dee Cree, (Secretary); Ruby M. Roberson; (Treasurer); Cindy Wagoner; Bill Dittman; Andrew Robison; Tim Roberson and Eric Foreman.
For information concerning the complex, call 574-686-2134 or write Camden-Jackson Housing, Inc., P O Box 93, Camden, Indiana 46917-0093.