Most Carroll County Government offices are housed in the beautiful and historic court house in Delphi, Indiana. The building was constructed in 1916 and is listed on the National Register of Historic Places.  The court house is located in the square at 101 W. Main St. in Delphi. Offices are open to the public from 8 am to 5 pm Monday through Friday, except for Wednesday when the building closes at noon.
Carroll County   •    Delphi   •   Burlington  •   Camden  •   Yeoman
Carroll County undertook this comprehensive planning process as a continuing step toward creating a better future. The Carroll County Comprehensive Planning Initiative started in the spring of 2007. The County sought broad public input through interest group meetings and public workshops. The final outcome of the Carroll County Planning Initiative is a user-friendly plan that is full of attainable goals and objectives that were significantly influenced by the residents of Carroll County.

The MISSION of the Carroll County Chamber of Commerce is to provide members with services, programs, and benefits designed to promote their success thereby enhancing the well-being of the Carroll County Community.

   The Carroll County Economic Development Corporation is a private, not-or-profit, corporation leading the county's economic development strategy to add more jobs and diversify the local economy while enhancing the area's unique natural and cultural environments. The EDC is a catalyst for creating a vibrant economy that is sustainable and globally competitive.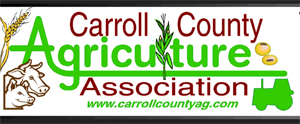 Carroll County Agriculture Association is a non-profit §501(c)(5) corporation that represents Carroll County agriculture as a unified group, including all persons involved in agriculture production and agribusiness.
The mission of Carroll County Agriculture (CCAA) is to promote agriculture through best management practices and to enhance and sustain the Carroll County Community.


Area IV's mission is to foster a better quality of life for individuals, families and communities. The agency will maximize and make the best use of all financial and human resources, with compassion and respect for the dignity of each individual served and with stewardship that reflects our commitment to accountability, integrity and quality services.
Purdue Cooperative Extension Service is one of the nation's largest providers of scientific research-based information and education. It's a network of colleges, universities, and the U.S. Department of Agriculture, serving communities and counties across America. The Purdue University Cooperative Extension Service program areas are:
Agriculture and Natural Resources
Health and Human Sciences
Economic and Community Development
4-H Youth Development