Welcome to the new Town of Camden web page!  You will find several changes and additional information has been added to Camden's web page along with a fresh, updated look.  One of the new areas is the New Resident Information section.  In this area you will find information on the community and links to local utilities, post office, voting registration and BMV sites.  The section Transparency Portal provides information on how your tax dollars are being collected and spent along with local ordinances and town meeting minutes.  The Department of Local Government Finance (DLGF), the agency responsible for ensuring property tax assessments and local governments budgets are in accordance with Indiana law,  has launched a website to provide taxpayers the ability to view local government finance online.  Please take a moment to review the information in the Transparency Portal and become a better informed taxpayer.  Local businesses are encouraged to take part in the Business Listing as a means to promote products and services.  There is no fee to be listed and it is an opportunity for the public to become aware of what you have to offer.  Clubs, churches and non-profit organizations may have their fund-raisers advertised on this page, also at no charge.  Information can be emailed to us or drop a note off with the information you want included with your announcement.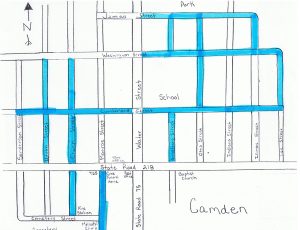 Summer Street Work:  Several Camden streets, the ones highlighted in blue, will be paved this summer thanks to a Community Crossings Grant from INDOT.  Community Crossings is a partnership between INDOT and Hoosier communities, both urban and rural, to invest in infrastructure projects that catalyze economic development, create jobs, and strengthen local transportation networks.  The grant, $141,765.30, will cover almost 75% of the costs.  Last year North Water Street from Main Street to the northern town boundary was paved and 50% of that cost was supplemented with this same type of grant.  The work this summer will be the same surfacing as on North Water.  In addition to paving the streets, several crossings will have ADA ramps installed making pedestrian crossing safer and more accessible.  We look forward to a busy summer and making Camden a great place to call home!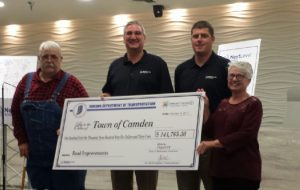 INDOT Community Crossing Grant – The town was recently awarded a grant from INDOT in the amount of $141,765 for street work.  This money, plus the town match of $47,255, will be used for street work in 2018.
Carroll County Food Pantry:  The primary purpose of the Carroll County Food Pantry is the distribution of food to people in need.  There are two locations:  11 S Center Street, Flora (574-967-344) and 618 N Washington Street, Delphi (765-564-4879.  Hours of Operation:  Fridays and Mondays, 10 a.m. to noon.  Donations can be dropped off at either site.  Monetary donations can be sent to P O Box 152, Flora, IN 46929.
St. Peter's Lutheran Church would like to thank the community for making the Baked Potato Bar a huge success.  Thanks to the community they were able to raise $650 for the Camden Bag Hunger program.  This will certainly help to provide a lot of meals for the Camden Community!
Indiana at 200:  The Official Report of the Indiana Bicentennial Commission is now in the Camden Public Library.  It is a beautiful book that shows Bicentennial activities from every county in Indiana.  A nice picture of the Garden Celebration here in Camden is included in the book.  
Stormwater Improvement Grant – The town was recently awarded a grant from U S Department of Housing and Urban Development in the amount of $500,000 to install new stormwater drainage infrastructure to include drainage pipes, concrete catch basins, manholes and restoration to work areas.  This project will benefit the residents of Camden by eliminating property damage caused by flooding; reduce safety hazards from motorists hydroplaning during flood events and make town sidewalks accessible to citizens at all times.
ANIMAL CONTROL IS ACTIVE:  Animal Control officers are Jordyn Hartman and Rod Jewell.  Contact dispatch at 765-564-2413 to request Animal Control assistance.
YARD SIGNS IN SUPPORT OF LAW ENFORCEMENT:  Mark Genda and the Genda Funeral Home is showing support of local law enforcement by handing out free "Thin Blue Line" yard signs to anyone who wishes to place them in their yard.  These signs serve as an outward gesture of our appreciation, respect, and offer a reassuring visual reminder of our support and that they are not alone.  The signs are available at Genda Funeral Home, 103 N. Center St., Flora.  Those who are not able to pick up a sign may call the funeral home at 574-967-4114 and one will be delivered.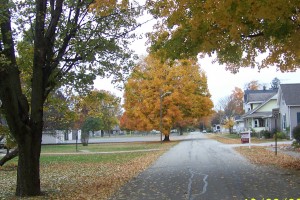 EXTRA PICK UP CHARGES FOR CLINTON COUNTY DISPOSAL: Couches, full, queen, and king sized mattresses–$10.00 each; dressers, recliners, tables, crib or twin mattresses, large microwaves–$5.00 each. Resident has to be present to pay driver by check (made out to CCD) or cash! They will no longer take electronics. Large appliances will only be taken on Spring Clean-Up Day. All TV's, VCR's, Computers, Stereos, Etc can be taken to any Best Buy, Goodwill Stores or the Carroll County Transfer Station.
Change in Council Meetings:  Beginning in April of 2017 the Camden Town Council will meet on the second Wednesday of each month at 7:00 in the Library Reading Room.