Welcome to the new Town of Camden web page!  You will find several changes and additional information has been added to Camden's web page along with a fresh, updated look.  One of the new areas is the New Resident Information section.  In this area you will find information on the community and links to local utilities, post office, voting registration and BMV sites.  The section Transparency Portal provides information on how your tax dollars are being collected and spent along with local ordinances and town meeting minutes.  The Department of Local Government Finance (DLGF), the agency responsible for ensuring property tax assessments and local governments budgets are in accordance with Indiana law,  has launched a website to provide taxpayers the ability to view local government finance online.  Please take a moment to review the information in the Transparency Portal and become a better informed taxpayer.  Local businesses are encouraged to take part in the Business Listing as a means to promote products and services.  There is no fee to be listed and it is an opportunity for the public to become aware of what you have to offer.  Clubs, churches and non-profit organizations may have their fund raisers advertised on this page, also at no charge.  Information can be emailed to us or drop a note off with the information you want included with your announcement.
VACATION BIBLE SCHOOL: July 24-28, 6:30-8:30 pm at St Peter's Luheran Church, 282 W Cumberland Street, Camden.  Everyone is welcome to attend!
GEP PROJECT READY TO MOVE FORWARD!  Camden-Flora Rail Corridor Commission (CFRCC) has arranged a GEP Project Update Briefing on Friday, June 9th, starting at 1:30 pm at Camden Community Center (open to the public).  
Company officials from GEP Indiana Holdings, US Energy & Recycling, US Rail, and Briner Buildings (General Contractor) will be present to update local officials, utility providers, area contractors, and the general public on current status and future plans to make this exciting project happen, and to answer any questions.
GEP  Indiana Holdings, LLC, now has funding secured to totally fund Camden Recycling.  Camden Recycling will be Phase 1 of the overall GEP Project at Meridian Road site between Camden and Flora.  GEP is ready to get pre-construction engineering work underway to move this project forward.
Completing the GEP Project will mark a new beginning for bringing rail-served industrial development, with large numbers of good paying jobs and a growing tax base/valuation, to central Carroll County.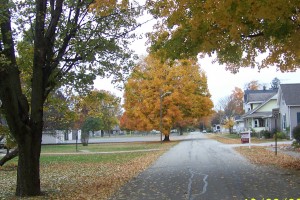 EXTRA PICK UP CHARGES FOR CLINTON COUNTY DISPOSAL: Couches, full, queen, and king sized mattresses–$10.00 each; dressers, recliners, tables, crib or twin mattresses, large microwaves–$5.00 each. Resident has to be present to pay driver by check (made out to CCD) or cash! They will no longer take electronics. Large appliances will only be taken on Spring Clean-Up Day. All TV's, VCR's, Computers, Stereos, Etc can be taken to any Best Buy, Goodwill Stores or the Carroll County Transfer Station.
Delphi Chief of Police Steve Mullin is asking for your help.  If anyone in the community has an outside camera that gives a view of State Road 218, would you please share that information.  Information can be reported by calling the Indiana State Police at (800) 382-7537; the Carroll County Sheriff's Department at (765) 564-2413; Delphi City Police at (765) 564-2345, or the Tip Line at (844) 459-5786.  Information can also be shared through e-mail:  Abbyandlibby@cacoshrf.com
Change in Council Meetings:  Beginning in April of 2017 the Camden Town Council will meet on the second Wednesday of each month at 7:00 in the Library Reading Room.
Camden Community Preservation Society Completes Important Project: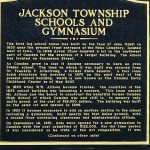 The Camden Community Preservation Society is proud to announce the completion of the Jackson Township Schools and Gymnasium Historical Marker Project.  Beginning in November of 2015 the society hosed a meet and greet session for the Camden Alumni and friends at the Camden-Jackson Township Library Reading Room for the purpose of explaining their planned project of purchasing an historical marker using the existing funds of the local alumni association collected June 13, 1998, and other personal donations.  The event was successful but fell short of the $3145.00 needed to fund the project.  It was after the second canvassing of the town patrons and friends that the historical organization, under the direction of president Barb McCain, decided to apply for an REMC Round Up Grant to complete the funding of the project.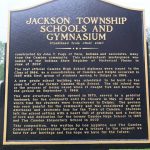 In October of 2016 the society was fortunate to receive the Round Up Grant they applied for.  After seeking advice from Tommy Kleckner of the Indiana State Historical association the members were advised to seek the help of Sewah Studios of Ohio to order the permanent marker.  A composition pertaining to the schools of Jackson Township and its gymnasium was written by the Camden Preservation Society and Lee Appleton for the marker.  The project seen in the photo was recently installed by preservation members Diane and Ron Wertz and community members Kyle and Don McCain with Delphi Community school board approval under the leadership of Superintendent Briles.  It is with great pride that the Camden Community Preservation Society and the Camden Alumni Association, with the help of the Carroll/White REMC Round Program, presents this stunning piece of architecture to the Town of Camden as a yet another piece of its proud heritage.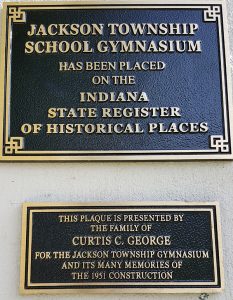 The plaque in the picture (right) was presented to the Camden School Gymnasium in December of 2016 recognizing its nomination to the Indiana State Register of Historical Places in June of 2007 by the family of Curtis C. George.  The gymnasium has special meaning to the George family as Curtis was one of the local associates who helped build the gym.