We hope you find Camden a great place to call home.  The following information will help your move go a little smoother.
Camden provides water, wastewater and trash service to our residents.  You will need to establish your new account during normal business hours.  The office is not open on Saturday or Sunday so please plan your move accordingly.  The office location is 153 W. Main Street.  A deposit of $75 is required for each of these utilities, $150 total deposit.  The office will accept cash, check or credit card.  When you move out, this deposit can be applied to your final bill or refunded to you once your account has been paid in full.  The water and wastewater are billed based on the metered number of gallons of water used.  There is a minimum bill which is charged for usage from 0 – 3000 gallons.  All usage over 3000 gallons is billed by metered gallons.  Your bill will be mailed the first of each month, late payment penalties (10% of the water, hydrant fee, sewer and trash charge) are applied on the 10th and water is discontinued for non-payment if payment is not made by the 20th.   There is a reconnect fee of $25 if your water is shut-off for non-payment.   Snowbirds can request to have their service discontinued through the winter months and reactivated in the spring without being accessed the reconnect fee.  Please call 574-686-2121 if you have any questions.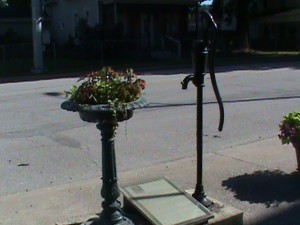 Trash service is also provided by the town and billed on your monthly statement.  Trash is picked up on Thursdays.  Please have your trash to the curb, preferably in a trash can but bags are acceptable, by Wednesday evening.  Trash cans are preferred as they will deter dogs, cats, and raccoons from getting into your trash and causing a mess for you to clean-up.   "Spring Clean-Up" takes place in early summer, usually in May.  This is a good time to dispose of your larger items but there are restrictions on what is allowed to go into the landfills.  Hazardous items are not accepted at any time.  Questions on what will be taken can be answered by Clinton County Disposal at 1-800-892-4804.
Recyclables and items not accepted by the regular trash service should be taken to the Carroll County Transfer Station at 1298 N 625 W Delphi.  Certain items are banned from the landfill and must be taken to the recycle center for proper disposal – all electronic, batteries, oil base paints, oil and tires are just a few examples of what must go to the Transfer Station.  Please call 765-564-3114 with questions about fees which may be charged for disposal of certain items.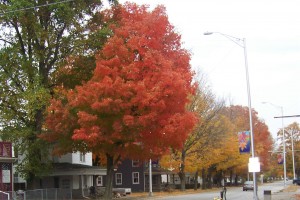 Most homes in Camden have a post office box for mail delivery.  The Post Office is located at 108 W Main Street.  Please visit them to set up your mail service.  As a service to the community, the Town Office hosts a Village Post Office where flat rate stamps are available and flat rate boxes can be mailed.
Other contact numbers for utilities:
Telephone Service          TDS Telecom            574-686-2111     http://www.tdstelecom.com
Electric Service               Duke Energy           800-521-2232     http://www.duke-energy.com
Natural Gas Service          NIPSCO                 800-464-7726    https://www.nipsco.com
Internet services              Frontier                855-808-2864
https://internet.frontier.com/local/
Camden has two part-time marshals.  Their office is located in the Town Office at 153 W. Main Street and can be reached by phone at 574-686-2121.  If they are not on duty when you require non-emergency assistance, please call the Carroll County Sheriff at 765-564-2413.  Call 911 for all emergencies.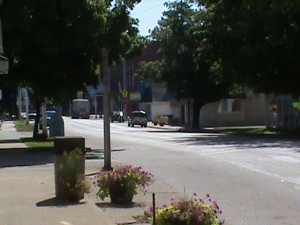 Most children attend Delphi Community Schools but they do have the option to attend school in the Carroll Consolidated School Corporation.  The Early Childhood Center provides education for children in pre-school and kindergarten and is in Camden.  Grades 1 – 5 attend Hillcrest Elementary in Delphi.  The middle school and high school are also in Delphi at 501 Armory Lane.  Those students choosing to attend school as part of the Carroll Consolidated School Corporation would attend at 2362 E ST RD 18 Flora.  There are several excellent pre-schools in the community.
If you are new to Carroll County and would like to register to vote, please follow this link:https://indianavoters.in.gov/PublicSite/PublicMain.aspx 
| | |
| --- | --- |
| Other Important Phone Numbers: | |
| Camden Town Office: | 574-686-2121 |
| Camden Town Office Fax: | 574-686-2122 |
| Camden Marshall: | 574-686-2121 |
| Industry Information: | 574-686-2121 |
| Camden Utilities: | 574-686-2121 |
| Camden Fire Station: | 574-686-2785 |
| Camden-Jackson Housing: | 574-686-2134 |
| Camden Post Office: | 574-686-2464 |
| Camden Medical Center | 574-686-2022 |
| Camden-Jackson Twp. Public Library: | 765-201-4745 |
| Carroll County Health Department: | 765-564-3420 |
| Carroll County Sheriff Office: | 765-564-2413 |
| Carroll County Emergency Medical Service: | 574-967-4161 |
| Carroll County License Branch: | 765-546-2700 |