Camden Online Payments Disclosure
The Town of Camden has joined the growing number of Indiana Cities and Towns now accepting credit cards for utility payments.
There is a charge to the customer for using the Online Payment feature.
The charge for online payment is $2.50 if the bill is $64 or less and above $64 is 3.95%.
Phone payment is $3.00 with minimum charge of $61
or 4.95% for more than $61.
If the customer pays at the Town Hall office the minimum is $2.00 for a bill of $67 or less and a 3% charge for bills over $67.  The customer is responsible for the charge.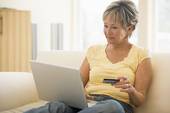 Never be late again!
If you can't come into the office or regular mail is too slow, pay online now!
Credit and debit cards are now accepted for payment of utility bills and other town charges and fees.  "PayGov" is a third party processor for credit/debit card payments made online, over the phone or in the town office. A convenience fee will be charged to you for using your card. Our office receives none of this fee; it is collected by the vendor for their expenses. The fee that will be charged to your account will be shown once your information is entered. You will be given the option to "Accept". If yes, check the box and proceed to checkout; if not, just close out the screen.