108 W MAIN ST
CAMDEN, IN 46917–9998
574-686-2464

The Camden Post Office is located at 108 West Main Street and is open Monday through Friday from 8:00am until noon and on Saturday from 8:30am until 10:30am. The office is closed on Sunday. Patrons have access to their boxes and can get their mail at any time.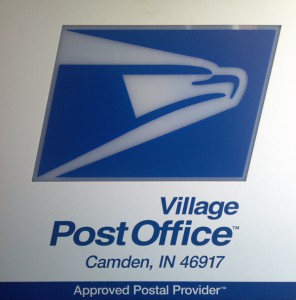 CAMDEN
Village Post Office
153 WEST MAIN STREET
CAMDEN, IN.  46917–9998
Phone:  574-686-2121
A Camden Village Post Office opened on June 26, 2013 in the Town Office. "Forever Stamps" are available for purchase and flat rate boxes can be shipped from this location. Packages cannot contain anything liquid, fragile, perishable or potentially hazardous (examples would be lithium batteries or perfumes). Flat rate boxes and priority flat rate envelopes are available at the Office.
                           Shipping Cost of the Flat Rate Boxes:
Priority Flat Rate Envelope: $6.70 at post office or 12 Forever stamps ($6.00)
Small Flat Rate Box (12 1/4″ X 12 1/4″ X 6″): $7.20 at post office or 13 Forever Stamps ($6.50)
Medium Flat Rate Box (11 1/4″ X 8 3/4″ X 6″): $13.65 at post office or 26 Forever Stamps ($13.00)
Large Flat Rate Box (12 1/4″ X 12 1/4″ X 6″): $18.90 at post office or 37 Forever Stamps ($18.50)
There is a discount on flat rate box postage if you go online to print your own postage. Please take the time to check this additional service out. Packages going to APO/FPO addresses also receive a discount when you print your own postage. We can not ship packages going to other countries.
Forever Stamps may be purchased at the Town Office for $50/roll, $10.00/book of 20 or $.50 each. Cash, checks and credit cards are accepted as payment. The Village Post Office is open during regular business hours – 8:30am – 4:00pm Monday, Tuesday, Thursday & Friday and 8:30 – Noon on Wednesday.
Mail delivery and all other postal needs must be taken care of at the Camden Post office, 108 W. Main Street.