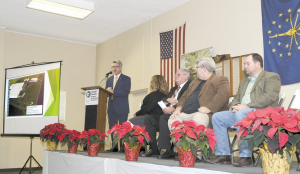 CAMDEN, Ind. — Titled "Project Lego," a $300 million renewable energy project is expected to bring about 245 jobs to Carroll County, local officials and business leaders announced Tuesday, 11-29-16.
> video <

Developed by GEP Fuel & Energy Indiana, the project will refine waste plastic into diesel fuel and other products. The project includes both a recycling center and a diesel refinery. Carroll County beat out locations in Texas and Pennsylvania for the development.
GEP President Steve Hogan said the project will be completed in two phases. The first component, called Camden Recycling LLC, will be a plastics recycling center. The second phase of the project is to construct a "plastics to renewable" diesel fuel production facility.
Development builder Mike Swinford told the crowd the project will bring construction jobs to Carroll County. He said, as the designer, builder and general contractor for the project, he expects to employ 100 workers in the first year to get the project off the ground.
CAMDEN, Ind. (WLFI) — wlfi.com
GEP Fuel & Energy Indiana is choosing Camden, Indiana, to create a recycling center and diesel refinery. The two facilities are expected to create more than 240 new jobs.